Roofing is a tiring job, even if it is a small area. You want to get up there once and fix all your problems on the way down. The biggest mistake you can make here is to get the wrong compressor for roofing.
The wrong compressor will not be compatible with your tools. If you pick a smaller one, you might have to come down to refill it. And one with too much heat will have the resting requirement, which will also leave you in the heat of the rooftop.
But we are not trying to scare you. We are just telling you that you need to have the best gas air compressor for roofing. You will have our picks for that below.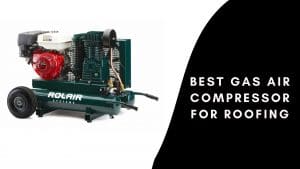 Pneumatic Tools You Will Be Using For Roofing
Before you buy a compressor for running your roofing tools, you need to have a very good idea of what tools you are gonna be using. Because the requirements of those tools will determine what kind of compressor you need.
So, the pneumatic tools required for the project are-
Pneumatic drill – 6 CFM at 90 PSI (max)
Pneumatic nail gun – 2.2 CFM at 90 PSI (max)
Roofing nailer – 4 CFM at 90 PSI (max)
You can also get a pneumatic reciprocating saw. But good quality saws of that kind are hard to come by.
Keep other tools in mind as well. Because roofing is not the only job you are gonna do with your air compressor.
Best Gas Air Compressor for Roofing Reviews
These are the top-of-line gasoline-powered compressors you can use for roofing. Take a closer look.
Industrial Air Contractor 4 Gallon Portable Pontoon Air Compressor
Specifications
Power: 5HP
Max Pressure: 155 PSI
Air Flow: 6.9 CFM @ 40 PSI and 5 CFM @ 90 PSI
Capacity: 4 Gallons
Engine: 160 CC Honda OHC/OHV
Weight: 74 lbs
Warranty: 2 years limited
It does justice to the brand name. You can clearly see the air delivery is compatible with any industrial-grade pneumatic tools. With a 5 HP engine, this beast produces 5 CFM of air at 90 PSI. This much air is enough for running roofing guns or framing nailers.
Top Selling Innova Scanners
If you are a bit tight on the budget and need more pressure, this will provide you with a max pressure of 155 PSI which is rare in such cheaper models. Durable, affordable, and reliable are the three terms that best describe this air compressor.
The twin tank of the compressor is in a pontoon design. The total capacity is 4 gallons that are on the lower side. But if you aren't using more than two roofing guns, it won't be an issue.
The direct-drive pump increases the efficiency of the compressor, so it can run longer without being overheated. This is a pure budget air compressor for roofing nailers.
Makita MAC5501G 5.5 HP Gas Air Compressor
Specifications
Power: 5.5 HP
Max Pressure: 135 PSI
Air Flow: 12.5 CFM @ 100 PSI
Capacity: 10 Gallons
Engine: 160 CC Honda GX
Weight: 235 lbs
Warranty: 1 year limited
Makita MAC5501G is most probably the best roofing compressor. Its 4-stroke powerful engine produces enough power to deliver a whopping 12.5 CFM of compressed air at 100 PSI. This much air can easily refill 10-gallon twin tanks, so you don't need to wait on the roof under the scorching heat for the compressor to recover.
The behemoth weighs about 235 pounds, so it seems to be less portable. But with the help of a wheelbarrow style handlebar and 10-inch non-flat tire, you can easily move the compressor within your job site. It also starts easier than many other compressors.
Due to the oil lubrication, this engine runs at a much cooler temperature than non-lubricated compressors. Though oil lubrication makes maintenance a bit tougher and messier, it is better for the longevity of the machine.
This giant can run several pieces of equipment at the same time. So, even if the price tag is high, this machine is totally worth it.
Rolair GD4000PV5H 4.5 Gallon Gas Powered Cordless Small Portable Air Compressor
Specifications
Power: 4 HP
Max Pressure: 135 PSI
Air Flow: 4.6 CFM @ 90 PSI
Capacity: 4.5 Gallons
Engine: 118 CC Honda GX
Weight: 72 lbs
The fuel-efficient Honda engine keeps you stress-free when you don't have a power outlet to connect your compressor. This small gas air compressor for roofing will help you run a number of tools with a standard air delivery rate of 4.6 CFM at 90 PSI.
Rolair compressor can provide a maximum pressure of 135 PSI. This pressure is good enough to run most commercial-grade pneumatic tools for roofing work. The engine produces 4 HP. Its pancake-style air tank is positioned on one side.
In a single tank, 4.5 gallons of compressed air can be stored at maximum pressure. So, you can run at least two framing nailers at the same time without waiting for the compressor to recover.
It has no wheels under the frame, so you have to lift it for moving. But the Portable Air Compressor
is lightweight, so it won't be a problem. The roll cage frame protects the engine and other components.
DEWALT D55153 Air Compressor
Specifications
Power: 1.1 HP
Max Pressure: 125 PSI
Air Flow: 4.5 CFM @ 100 PSI
Capacity: 8 Gallons
Weight: 57 lbs
Compared to the size and power of this roofing air compressor, it can store a lot of air in its twin tanks. The total capacity of these tanks is 8 gallons, so you will have a lot of air for running your roofing guns.
Air delivery is also moderate here, with a rate of 4.5 CFM at 100 PSI. This machine can deliver a maximum of 125 PSI which is adequate for roofing work. Anything lower than this won't fit all pneumatic tools.
As it is small and lightweight, you can carry it with your hands to wherever you need it. A rubber grip is attached to the handlebar for easy carrying. This compactness and portability topped with enough pressure and air delivery are rare in compressors of this class.
Cast iron cylinders are bathed in synthetic oil. It increases the durability of the pump but makes maintenance messier and costlier. But still, this is a good choice for small commercial or residential use. At this budget, it can compete with other big compressors in terms of air delivery and pressure.
Ingersoll-Rand SS3J5.5GH-WB
Specifications
Power: 5.5 HP
Max Pressure: 135 PSI
Air Flow: 11.8 CFM @ 90 PSI
Capacity: 8 Gallons
Engine: 160 CC Honda GX
Weight: 175 lbs
Warranty: 1 year limited
This wheelbarrow-style gas air compressor is enormous. It weighs 175 lbs where the air tank is fitted to the sides of the cast-iron frame. Tanks of this compressor can hold 8 gallons of compressed air at a maximum pressure of 135 PSI.
With this much air and pressure, pneumatic tools like roofing guns, brad nailers, framing nailers can be easily run. Several tools can be connected to the compressor at the same time. This has an industrial look to it. But it is the quietest in class.
Because of the rubber feet and tire, the vibration of the engine is reduced to a great extent, thus making the compressor quiet. The powerful 5.5 HP engine starts just with a pull on the cord. Starting the compressor is one of the easiest.
Though the compressor takes a bit more place with a wide-open design, it provides ample power and air for all your roofing works.
Gas Air Compressor for Roofing Buying Guide
Before someone buys gasoline-powered compressors, the following facts should be considered carefully. These factors will ensure you get a worthwhile compressor for the price. It will also ensure the compressor will serve its roofing purpose correctly.
Air Pressure
Pressure is one of two major terms associated with air compressors. Whenever air is compressed into a smaller volume than usual, the pressure rises. Pressure is measured in Pounds per Square Inch (PSI).
For most pneumatic tools, the required pressure is around 100 PSI. So, you should choose an air compressor that has a maximum pressure of at least 125-135 PSI. This will ensure all your tools get enough pressure for the intended work.
Air Flow
Airflow is the second major term of an air compressor. This is measured in Cubic Feet per Minute (CFM). It denotes the amount of air delivered by the compressor per minute. The more the CFM rating is, the more tools or bigger tools you can run simultaneously.
Tools that run continuously will need a compressor of a higher CFM rating. A good practice, in this case, is to check the manual of your tools and find the CFM rating of the tool. Then you can multiply this rating by 1.5 to determine the required CFM for those tools. This way, you can choose the right air compressor that will power up all the necessary tools for your job.
Horsepower
Horsepower (HP) is a unit of Power. It denotes the overall capability of the engine of the compressor or how much power the engine can produce. To be very basic, the powerful the engine is, the more compressed air it will make at a certain time.
Consumer-grade or contractor-grade compressors come in 1-5 HP. You can invest in a more powerful compressor if you want. But for roofing work, a compressor of 4-5 HP will work fine.
Tank Capacity
Even if the max pressure and airflow are a bit lower, a larger tank can compensate for that. The larger the tank is, the more air will be available at any time for the tools to draw. With a larger tank, the compressor will get enough time to recover.
For roofing works, a compressor with 4-6 gallons of tank capacity is considered decent. Going for anything under 4 gallons won't be a wise decision.
Noise Level
Noise level is measure in dB. Please keep in mind, the increase in noise level is exponential. If you are working indoor, the quietest compressors will be better. But if you are working outdoor, moderately loud compressors will also work. Try to choose a compressor that has a wide design and rubber feet to reduce the vibration and noise level.
Portability
When handling such a compressor, you might need to take it from one job site to another very often. Even you need to move the compressor from one place to another within the job site.
So, the compressor you will buy should be lightweight and easy to carry. A comfortable handlebar with a rubberized grip will be super suitable.
Frequently Asked Questions
Let's clarify some of your confusion regarding gas-powered portable air compressors.
Q: Which type of air compressor is the most efficient?
A: Reciprocating compressors are the most efficient of all types. These are compressors where a piston moves back and forth inside a cylinder. Two-stage double-acting compressors work the best.
Q: How does a gas-powered air compressor work?
The mechanism of a gas-powered air compressor is simple. A gasoline engine is used to turn the rotor at the air end and then compress the air.
Q: Are pancake compressors good for roofing?
Yes, pancake compressors are good enough for roofing works. You can run at least 3 roofing guns at the same time with pancake compressors.
Q: What is the advantage of a 2 stage compressor?
The operating cost of 2 stage compressors is lower as they need to work less time than single-stage compressors to compress the same amount of air. The chance of overheating is also low because of the intercooling stage.
Q: How does a 3 stage compressor work?
In a three-stage compressor, the air passes through three compression stages and two cooling stages to reach the desired pressure.
Final Thoughts
That intense blow of compressed air often sounds charming if the machine is working properly. But it isn't always the fate you will depend on.
Before you settle, make sure you have considered all the necessary factors to choose the best gas air compressor for roofing. Your working experience will be much smoother if you have proper backing from the right tools.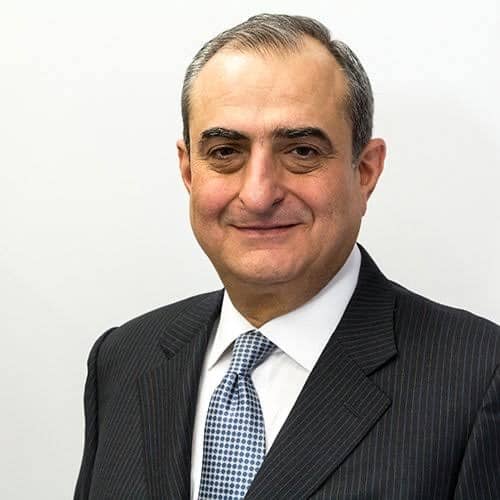 As a mechanical engineer, it's easy for Jack to explain the functionality of the tool. Richer test most of the tools before writing a review. its help him to learn something new and suggest the best product for you.