Air compressor is a versatile tool that allows you to inflate tires or spray the brush paint. However,  we can now find a lot of air compressor products in different sizes, capacities, and technical specifications.
Not all products are the best air compressor for RV tires because there are minimum specs or requirements to actually inflate the tires. Here, we'd review some products you can consider and provide a buying and usage guide that you can follow.
Top 5 air compressors for RV tires
1. VIAIR 450P air compressor
VIAIR 450P is an automatic portable compressor kit for RV vehicles. It's a 12v battery-powered compressor that delivers up to 150 PSI that would certainly inflate your RV tires. It comes in a pack of portable kits that would fit a small space in your RV. Viair itself is a respective compressor manufacturer that has been building only quality products for years.
Portable and Practical Design
VIAIR 450P comes with a carrying case that can contain all the components including the compressor units, hose, attachments, tips, sockets, and other equipment. You can practically store the case in your RV without consuming a large space.
It's actually very accessible whenever we need to use it and easy to repack it back after usage.
Complete Package
VIAIR 450P comes as a fully equipped kit that requires no additional tool to do the inflating task. In the tool case, you have inflation tips, RV attachment, and a long air hose of 60 feet. At this point, we no longer need to purchase separate parts to properly operate the compressors for inflating your RV tires.
Wide Compatibility
VIAIR 450P is designed for universal fit so it would work on any kind of vehicle with tires. It means that you can possibly use the compressor not only for your RV tires but also for other vehicles you have. Most importantly, we've confirmed that they can inflate any kind of RV car for sure.
Powerful Output
Obviously, VIAIR 450P has enough power to inflate RV tires with its 150PSI maximum pressure. However, the best air compressor for RV tires we've found is that it consumes a lot of power when you're achieving bigger output. At this point, you must run your RV engine whilst inflating the tire with high pressure.
The compressor has a built-in pressure switch so you can increase and reduce pressure output easily.
Top Selling Innova Scanners
Pros
High-pressure capacity

Portable

Long Hose

Special RV attachments

Compact and easy to store  
2. VIAIR 300P air compressor
VIAIR 300P could have a more economical solution to VIAIR 450P in this list. It's another universal-fit compressor that can do inflating your RV tires. The compressor also runs at a 12V voltage that can be connected to your RV's battery with jumpers or a special socket.
The electric compressor can technically inflate tires up to 42-inch in diameter. Coming from the respective manufacturer VIAIR, this compressor would do a great inflating job.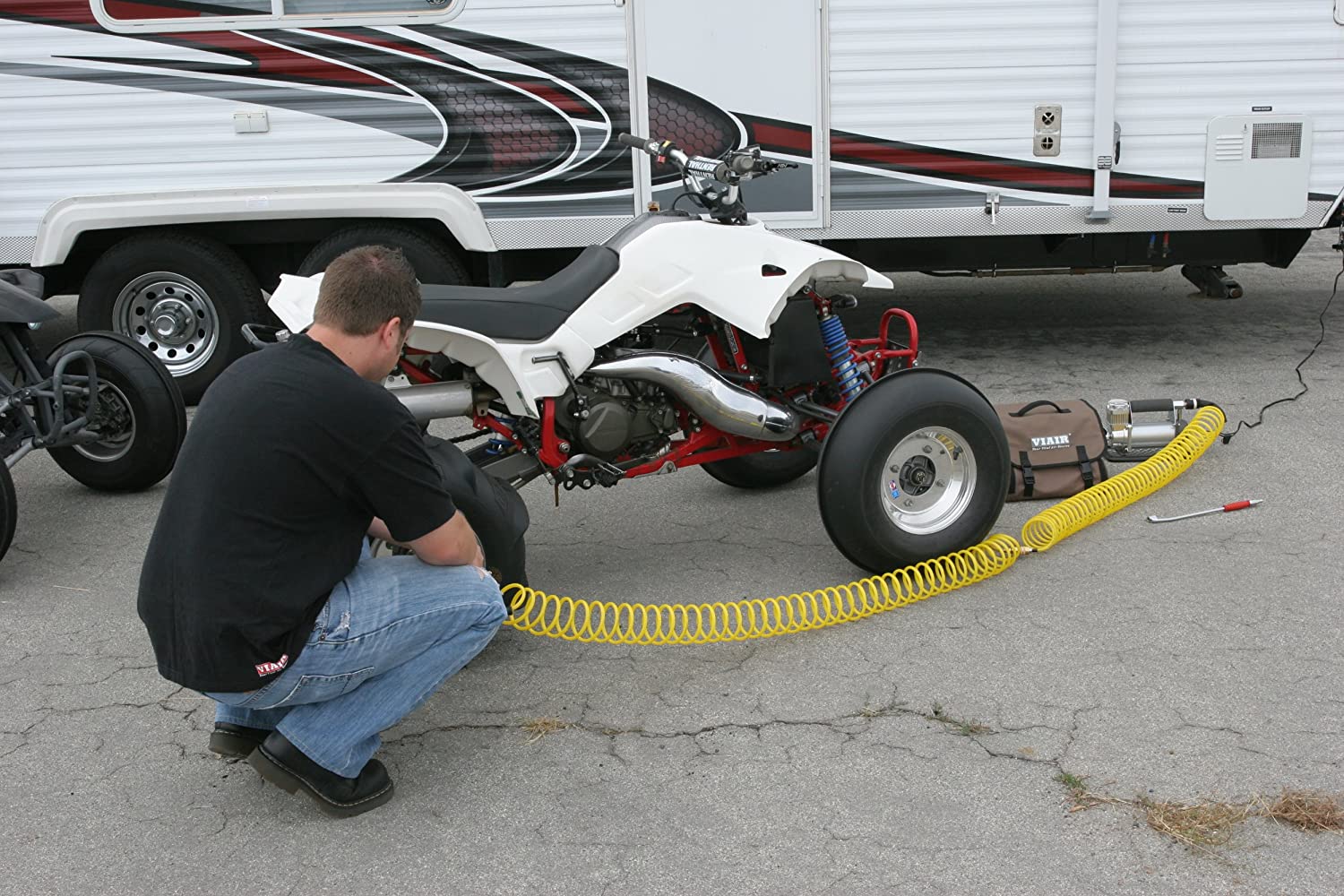 Portable and Powerful
Like 450P, VIAIR 300P can also deliver up to 150 PSI except that it has less continuous operation time and longer cooling time. It can inflate standard tires rapidly and just works fine on RV tires if you put adequate cooling time between sections. The pressure is delivered through an open-ended inflation hose with a built-in air pressure gauge.  
Wide Suitability
VIAIR 300P can inflate a wider range of tires starting from 33 inches to 44 inches. At this point, as long as your RV  has tires within that range, the VIAIR 300P compressor would inflate the tires with no problems.
It runs on a 12v battery source which is quite universal for most RV and you can simply connect the compressor with the clamps to your battery and you're ready to go. We've tried the compressor on random RVs for tests and it just works with no issues.
Automatic Operation
VIAIR 300P is fully automatic which means you only need to pull the trigger to start inflating your RV tires until it reaches the ideal pressure you want to achieve. This way, you can save time and energy to keep your tires inflated. No more manual on and off when using VIAIR 300P compressor which is very convenient for all RV owners.
Complete package in a case
The portable compressor VIAIR 300P comes in a complete package with a carry case. Despite the compressor unit, the case also includes a vibration-isolated heavy-duty sand tray, alligator clamps, hose, inflation tips, and so forth. You can easily store the carry case in your RV and unload it whenever you need to inflate the tires.
Pro
Powerful, RV supported

Automatic operation

Portable and compact

Wide compatibility

Affordable, best value for money
Cons
The time required for cooling down is too long

Special attachment for RV isn't included
3. TIREWELL 12V Tire Inflator  
TIREWELL 12V tire inflator is a mini compressor that surprisingly can inflate your RV tires confidently and other vehicles.   The tire inflator can pump up to 150 PSI to your tires as you've connected it to your battery with the clamps. It's actually an affordable option you can find in the market if you want a compressor that actually works for your RV tires.  
Real 150 PSI with Fast Inflation
TIREWELL 12V compressor is powered by heavy-duty double cylinders direct drive that delivers real 150 PSI. We've tested that the inflator can inflate a standard tire for around two minutes while RV tires for around 3-4 minutes to reach standard tire pressure of 35 psi from blank.  
The powerful compressor benefits from the direct drive of the two-cylinder motor. It allows the compressor to work more efficiently and inflate tires faster than a single-cylinder motor. At this point, cooling downtime would be shorter or even not required at all. While it's powerful, TIREWELL 12V Tire Inflator is considerably easy to control.
Stable and Efficient Compressor Operation
Despite its high-pressure output and double-cylinder construction, TIREWELL 12V Tire Inflator can operate stably thanks to its four-rod design. These rods would clamp and keep the compressor still on the ground when you use it to inflate your RV tires. It's actually very convenient to use this compressor because we can say goodbye to moving-around inflators.
On the other hand, TIREWELL 12V Tire Inflator is compact and quieter than generic compressors. You can simply set the compressor in one point, use the 5m hose extension included in the package, and start inflating your RV tires with no noises.
Furthermore, it's very efficient so you don't need any additional power source as your RV's battery is just enough.
Versatile Usage
TIREWELL 12V Tire Inflator can be used not only for the tires but also for bicycles, motorcycles, regular cars, vans, etc. You can practically inflate the tires of any vehicle in your home and connect the compressor to your 12 V battery.
The inflator could be a great investment because it can inflate pretty much everything with connectors.
Pros
High psi output 

Fast inflating performance

Stable and efficient

Complete package

Versatile

Best value for money
Cons 
A little bit bulkier than the competitors
4. Stealth Portable Air Compressor and Tire Inflator
A Stealth air compressor is a mini tire inflator that can inflate the tires of any vehicle including your RV. Despite its small size, Stealth can inflate larger tires only powered by your vehicle's battery.
It's actually the most affordable portable compressor on our list but we assure you Stealth tire inflators can do this job well. If you're looking for a budget-friendly solution to inflate your RV tires, this product could be your solution.
Quick Tire Inflation
Stealth tire inflators can inflate standard vehicle tires in three minutes and RV tires in five minutes. However, you better let the compressor rest after inflating one RV tire for cooling down and apply the same intervals. Continuous usage would decrease the performance or even damage the tire inflator.
The Stealth compressor comes with a maximum pressure output of 120 PSI with high airflow speed. We're not going too technical here but these factors actually allow the instant tire inflation performance.
Generally speaking, the compressor does a great job of inflating RV tires but cooling down between tires is a must.
Portable and Easy To Use
It's undoubtedly a portable tire inflator as it also comes with the carry case for east carriage and storage in your RV. You can bring this cased compressor when traveling or taking a long trip with your RV. It can be easily unloaded, set to the ground, connected to your battery, and you're ready to inflate the tire.
Auto Preset
The ultimate feature of the Stealth compressor is, of course, the auto preset that you can even rarely use in more expensive tire inflators. You can preset the tire pressure you want to achieve and the compressor would be automatically off when it does.
No more on and off or check and recheck the pressure gauge when inflating tires. The compressor would also immediately turn off itself whenever it experienced overheating issues.
Versatile Tire Inflator
You might have been thinking about inflating your RV tires but a Stealth tire inflator can also be used for other applications like regular cars, bicycles, balloons, balls, or other inflatable tires.
However, the Stealth compressor is actually not suitable for high-volume inflations or continuous operation like auto shop-grade compressors.
Pros
Mini size

Portable and compact design

Auto preset feature

Versatile

Complete package

Affordable, great value for money
Cons
Not for high-volume applications

Heating issues
5. EPAuto 12V DC Portable Air Compressor Pump
EPAuto portable air compressor pump is another affordable tire inflator for your RV that you can consider from our list. It's a  digital inflator which means it has a digital interface that informs you of the current pressure. Like other products in this list, it's a 12v DC compressor that supports portable use for RV and other vehicles.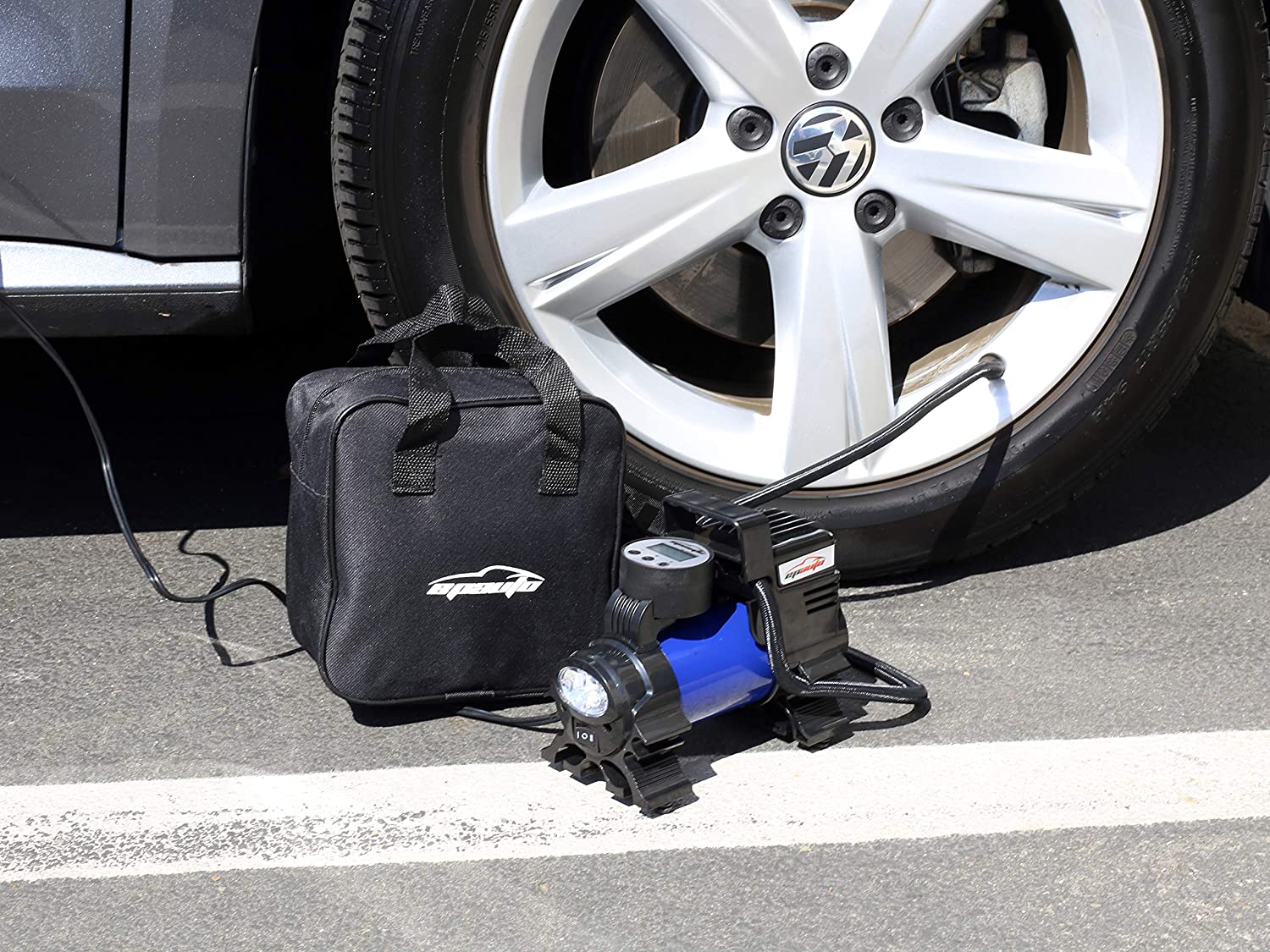 Lighter Socket Plug
The EPAuto compressor already includes the lighter socket plug so you don't need to use clamps to connect it to your RV's battery. It's a hassle-free operation that every RV owner can do, only plug and play. The extended cable allows you to reach the tire with no problems but it's quite unfortunate that the compressor doesn't come with a hose extension.
Digital Gauge Interface
It's quite surprising that a cheap compressor already comes with a digital gauge interface that allows you to monitor the inflation during the operation. It provides you with four different display units including BAR, PSI, KG/CM, and KPA. This way, you can control the pump and stop anytime whenever it reaches the desired level.
Limited Performance but Still Works
On paper, the EPAuto compressor can deliver a maximum pressure of 70 PSI so it's the least powerful tire inflator we have on this list. It may take passes to inflate one of your RV tires and you must let the compressor cool down before starting again. We've been warned that the compressor isn't suitable for truck or heavy-duty vehicle tires so we don't even try. Generally speaking, it still works on RV tires but it's just slower and has more heating issues than other products on this list.
The system would automatically shut down the compressor when it overheated. At this point, you need to let it cool down for at least 5-10 minutes. Don't force your compressor or it will shut down permanently. Again, it's very important to give cooldown intervals if you need to inflate all of your RV tires.
Multi Usage
It should be noted that RV tires could have been the EPAuto's top threshold of its maximum capacity. You must not use it for heavier applications because it would just automatically shut down for overheating or simply get wrecked.
However, you can actually use the compressor to inflate any inflatable item that's below the level of your RV tires.
Pros
Super cheap

Compact and easy to store

Digital gauge interface

Portable 
Cons
Lowes psi among competitors

Takes too long to inflate RV tires 

Heating issues for the job
What to look at before buying an Air Compressor For RV Tires
With tons of products available in the market, you need to consider several factors to get the best air compressor for rv tires for yourself. It should be noted that not all compressors can inflate RV tires. Even some tire inflators can actually do the job, they may perform slower or not as expected. Let's check our compressor buying guide below.
Compatibility
Your first choice must be compressors compatible with RV applications and you can skip underpowered or overpowered products. Manufacturers confidently declare it publicly in the product description if their compressor can work on RV tires.
You can also research further about the technical specifications whether or not it suits RV applications. This would narrow selections of compressors in your list.
Performance
Next, the most important when choosing a compressor is to check its performance that refers to the speed, airflow, continuity, and sustainability. We're not going too technical here but you must only use tire inflators that perform reliably on RV tires.
Check how long the compressor would take to inflate one tire, how long the continuous operation is, and how long it must cool down before it can be used again.
Maximum PSI Capacity
The first technical spec of the compressor you must check is the maximum PSI capacity of the compressor for sure. Generally speaking, you better avoid compressors that only deliver a maximum pressure below 70 PSI.  The RV tires need adequate PSI input to properly inflate before the compressor gets overheated.
Interface or Gauge
Even though it's already a basic feature in most compressors, you need to ensure that the RV tire inflator has at least a pressure gauge whether it's analog or digital. Some products also come with more gauges like airflow or even pressure presets. Either way, you need an interface that can help you monitor and control the compressor when inflating your RV tires.
Extensions
If you buy a compressor for RV tires, you must check the extensions included in your package. Tire inflators should come with an extended power cable with clamps and an extended hose so you can reach the tire while the compressor it's connected to the power source.
Some good products also come with lighter power sockets so you don't have to use clamps to connect with the battery directly. These extensions are basic inclusions you better consider because you may have to purchase them separately if they're not included in your purchase.
Portability
Since it's for RV, you need to purchase the compressor or tire inflator with mobility in mind. You want it accessible when you need to inflate the tires whether at home or on the road. At this point, you better choose the portable compressor that you can easily carry and store in your RV. Some good products usually come with a carry bag where you can practically contain the compressor unit along with all extensions for more compact storage.
Price
With narrowed compressor selections on your table, you can now consider the product prices. Compressors mentioned above are below $200 or even below $50. Of course,  you can expect better quality from more expensive tire inflators but even cheap compressors may do the job. At this point, you can set your budget and get the RV tire inflator with the best value for your money.
How to use an air compressor 
The practical use of an air compressor to inflate a tire may be slightly different for each product but we can actually highlight the general procedure. Assuming that you're using a 12V DC compressor like the products we've reviewed, then you can follow these steps to start inflating your tire.
Connect the compressor or tire inflator to the power source. You can either use clamps and connect them directly to your battery or simply plug the connector into the lighter socket in your dash. Whenever required, you can start the engine to keep up the battery power.

Connect the hose to your vehicle's tire valve. Ensure the fit and tight connection to prevent any leak when inflating your tire.

Get the recommended pressure tire of your RV that's usually printed in the doorjamb on the driver's side. Otherwise, you can confirm the technical information directly to experts or to the manufacturer itself.

If it's supported, you can set the intended tire pressure you want to achieve. Otherwise, you can simply monitor the pressure gauge or do interval checking until you reach the desired pressure level.

Pull the trigger on the compressor and let the air start flowing from the tire inflator to your tire. Some compressors with presets would typically turn off the inflator automatically when it has reached a determined pressure level. If it's manual, then you know when to stop the compressors from inflating your tires further.
Different Types of Compressors
We have several ways to divide compressors into different categories. As for answering our topics, we have at least three different types of compressors based on their power source and usability. These include wired portable air compressors, wireless portable air compressors, and heavy-duty compressors.
Wired Portable air compressors
Compressor products we've mentioned above are simply wired portable air compressors. These compressors have a portable design but they need to be wired to the power source via alligator clamps directly to the vehicle's battery or via a lighter power socket. They can be moved, carried, or stored easily but they can't work without the cable power.
Wireless Portable air compressors
These wireless portable air compressors refer to cordless or battery-powered compressors. This kind of compressor has its own power source which is typically the built-in battery so it doesn't need an additional cord to connect with the vehicle's battery.
However, since the built-in battery is typically smaller than the vehicle's battery, the power output of wireless compressors is also lower.
Heavy-Duty Compressors
Heavy-Duty Compressors are simply the generic air compressors that you usually find in auto shops. It has a semi-permanent design with large tanks and delivers high-pressure output. This kind of compressor is usually used for heavier and more continuous projects.
It can definitely inflate any size of tires but you can't practically store them in your RV.
1. What does a tire compressor do?
A tire compressor is a type of compressor specifically designed to inflate the tires when they have lower pressure than the ideal requirement. It could maintain the vehicle tires at ideal pressure whether it's for maintenance, regular checkup, or tire repair. Generally speaking, a tire compressor can inflate tires to the desired or determined pressure.
2. How does a tire compressor work?
Tire compressors use the vehicle's or built-in battery to operate. What it does is send the airflow with pressure to inflate your flat tire. You can either connect the compressor unit with alligator clips to the vehicle's battery or use the cigarette lighter socket to connect with the power source.  
3. What is The Difference between Tire Inflators and Air Compressors?
Air compressors and tire inflators aren't necessarily different from each other. best air compressor for rv tires, However, we can say that air compressors are typically larger than tire inflators. On the other hand, tire inflators have more limited uses than air compressors that usually come with bigger power and capacity. Tire inflators usually come in the form of portable air compressors.
4. Do I need a tire inflator?
Regardless of what vehicle you have, a tire inflator is undoubtedly a great investment for its functionality. You can save money from using commercial tire inflating services and use your own portable inflator at no cost. It's a great backup for maintenance or even a long trip using your vehicle.
The inflator can also remove the air out of your tires at some level to pro whenever you're driving the vehicle on soft trails.
5. Does the air compressor drain the battery?
If you're using a wired portable air compressor, you'd need to connect it to your vehicle's battery and definitely consume the power. However, it doesn't excessively drain your battery if you use it to inflate your tire. Even when you need bigger output or more continuous use, you can use the compressors whilst the engine is on.
6. How much psi should I inflate my tires?
On the doorjamb of the driver's side, you can find a plate or sticker that informs you with technically recommended tire pressure for the four wheels. The manual book also provides you with the required information.
Generally speaking, a range pressure of 33-35 psi is recommended for passenger cars' tires but the pressure range for an RV is 80-85 psi.
7. What PSI should my compressor be?
Portable compressors available in the market have a range PSI of 70-150 psi that would do a great job for inflating a tire.  The same range is also needed to operate pneumatic or air tools like nail guns, sanders, clamps, etc. The air pressure that goes too low won't inflate a tire or operate the air tools.
8. How much does a tire inflator cost?
The tire inflators available in the market start from $29 for the cheapest products. These tire inflators are typically portable air compressors used to inflate tires.
We've reviewed the best air compressor for RV tires that you can consider purchasing. Be sure to weigh factors on the buying guide into your purchase decision on a tire inflator. Not the best air compressor for RV tires.
Wired portable air compressors are generally more recommended for RV because they're powerful enough, portable, easy to use, and easily stored.
These air compressors use your vehicle's 12V battery power to operate but each of them can inflate RV tires differently. On the other hand, those air compressors are generally affordable even for the highest tier in our list.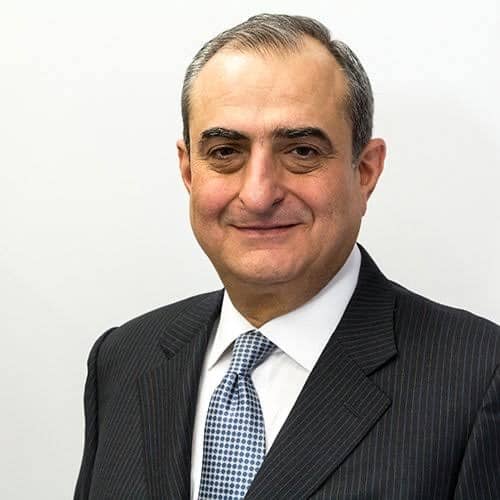 As a mechanical engineer, it's easy for Jack to explain the functionality of the tool. Richer test most of the tools before writing a review. its help him to learn something new and suggest the best product for you.